Meet Dr. Melissa Wilcox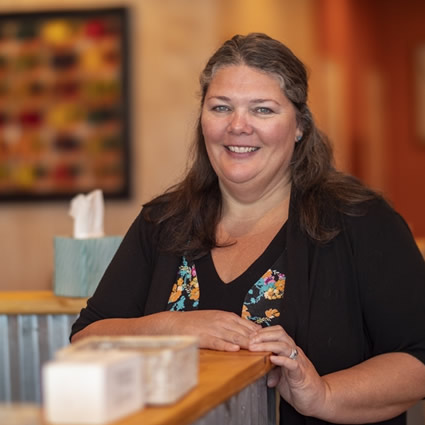 Dr. Melissa began her career years ago in nursing, working as an assistant. Always knowing she wanted to help others, it became clear to her that a nursing career was missing something-a natural approach to wellness.
After connecting with a family friend who was a chiropractor, Dr. Melissa attended prospective new student weekend at Life University-she loved it so much that after, she decided to attend the doctorate program-and the rest is history!
I love connecting with patients, and really listening to their concerns. I take the necessary time with everyone to really figure out what's going on and get to the root cause of the issue, so that we can work to solve the problem naturally.
A Deeper Bond with Patients
Dr. Melissa recently went through some of her own health challenges that required her to take a step back from chiropractic for nearly two years. During that time, she spent countless hours with medical doctors, being put on new prescriptions with undesirable side effects. After connecting with a Chiropractic Neurologist, she finally began to feel better-and while it was a long road to recovery, she now has an incredible understanding for the importance of empathy and compassion when working with her patients.
The B.E.S.T. Technique for Patients
Dr. Melissa is proud to offer patients a variety of techniques for care, but is specially trained in the B.E.S.T. technique-also known as Bio-Energetic Synchronization Technique. During this unique session, Dr. Melissa locates areas of injury and tension in the body, and uses a gentle touch coupled with the patient's breath to restore balance and tell the brain to 'reset' the musculoskeletal system. This way, going into a chiropractic adjustment, the body is looser and ready to maintain the results it receives.
EXPLORE OUR SERVICES
Outside of the Practice
When Dr. Melissa isn't changing lives in the practice, she enjoys spending time with her husband and two dogs. Having recently moved back to the Georgia Hills, she can't wait to spend more time in nature coming up, and also loves getting out on the lake with Dr. Kara and her family when she can.
Dr. Melissa can't wait to meet you and welcome you to the practice. Learn more about her when you visit us for your next appointment.

Dr. Melissa Wilcox | (706) 265-7339